UFC 213 main event between Amanda Nunes and Valentina Shevchenko has been canceled. New main event is Yoel Romero vs. Robert Whittaker.
Customers requesting a full refund of purchased tickets may do so at point of sale.
RESERVED EVENT PARKING AVAILABLE
Reserved event parking is available at New York-New York, Monte Carlo and the Aria Event Parking Garage for this event starting at $10. Additional service fees apply. The price increases the day of the event. For more information, including maps, directions and to purchase passes, please click here.
UBER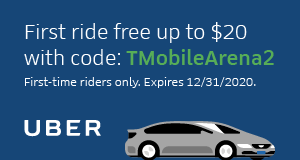 Ticket Information

UFC 213 main event between Amanda Nunes and Valentina Shevchenko has been canceled. New main event is Yoel Romero vs. Robert Whittaker.

Customers requesting a full refund of purchased tickets may do so at point of sale.

The remaining bouts on the fight card will proceed as scheduled.

Doors – 2:30PM
First Bout – 4:00PM
Prelims on FS1 – 5:00PM
Live on PPV – 7:00PM