Environmental Sustainability

Our Sustainable Mission
T-Mobile Arena is a LEED Gold certified facility. LEED is the preeminent rating system for design, construction & operation of high-performance green buildings. The partnership between MGM Resorts International and AEG provides the facility with access to top-tier environmental sustainability programs which will assist us in reducing our carbon footprint and provide fans with educational opportunities so that collectively we can think globally and act locally to make a difference within our own community.

Leading through the Green Advantage
MGM Resorts International is dedicated to helping protect our planet. By integrating a comprehensive environmental responsibility program across our 16 resorts with over 62,000 employees, we are able to reduce our negative impacts on the environment, while continuing to provide our customers with a superior guest experience.

We are passionate about greening our resorts and our approach to environmental responsibility encourages solutions that continuously improve our operations and our products. We believe that a greener business is a better business, that through our actions we can have a positive impact on our visitors, employees, communities, and the planet.

We call this the MGM Resorts Green Advantage and it is our promise that we will strive to:
Understand our impact on the environment and implement best practices to reduce it
Ensure that environmental responsibility is a priority at all levels of our organization
Support sound public policy that creates positive environmental change
Develop and support business partnerships with companies that share our passion for the planet
Never be complacent with our accomplishments, but always strive to do more
To learn more, click here.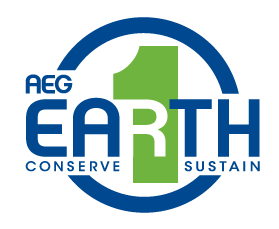 Learn More
AEG 1EARTH is AEG's corporate environmental sustainability program. Through AEG 1EARTH, AEG identifies goals to guide company decision-making, measures and quantifies the environmental impact of our activities, and develops strategies and tools to improve our environmental performance. The core elements of AEG 1EARTH are our 2020 Environmental Goals, AEG Ecometrics system, and education and communication initiatives.
To learn more, click here.