George Strait
Strait to Vegas
Dates
Feb 2 - 3, 2018 / Doors 6:30 PM
On Sale
Ticket Prices
$75.00 - $200.00
Purchase Parking
Fri, February 2, 2018

/ 8:00 PM

Sat, February 3, 2018

/ 8:00 PM
The King of Country Music, George Strait is returning to T-Mobile Arena on February 2 & 3, 2018 with special guests Lyle Lovett and Robert Earl Keen.
RESERVED EVENT PARKING AVAILABLE
Reserved event parking is available at New York-New York, Monte Carlo and the Aria Event Parking Garage for this event starting at $10. Additional service fees apply. The price increases the day of the event. For more information, including maps, directions and to purchase passes, please click here.
UBER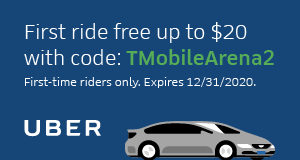 EVENT DAY RENTALS
The Best Access. Entertainment. Sporting Events. Everything.
Designed to offer the very best first-class amenities, personal service and an exclusive environment for essentially every event at T-Mobile Arena.
The Event Suites are the perfect setting to entertain a client, potential investor, or enjoy an evening out with friends and family. Your suite will either be located on the Event Level or on the Premium Suite Level that accommodates up to 16 to 40 guests.
Includes 16-40 tickets
4-10 VIP parking passes
Prices vary for each event
Please contact us at [email protected]
VIP EXPERIENCES & TRAVEL PACKAGES

CID Entertainment is excited to partner with George Strait once again to offer VIP Experiences and Travel Packages including premium concert tickets and hotel accommodations for Strait to Vegas in 2018. For more information, visit StraitToVegas.com.