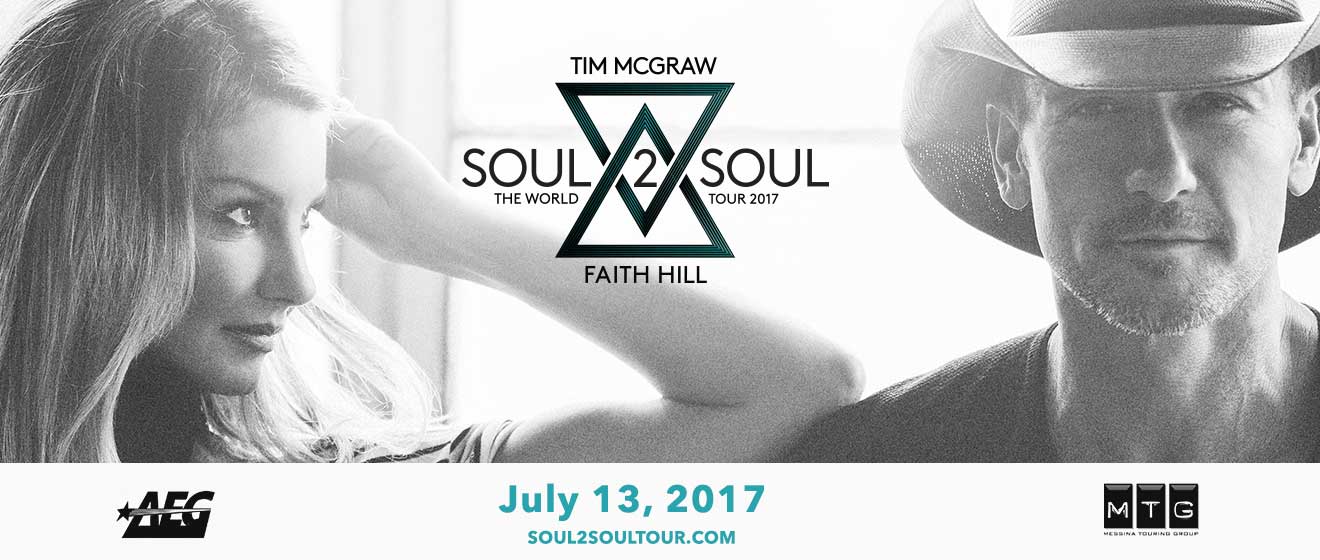 Feb 1, 2017
TIM MCGRAW AND FAITH "SOUL2SOUL THE WORLD TOUR 2017" ANNOUNCES ADDITIONAL SHOWS DUE TO STRONG FAN RESPONSE
DIFFERENT SUPPORT ACTS ANNOUNCED FOR EACH WEEK
NASHVILLE (January 31,2017) – Due to high ticket demand, Tim McGraw & Faith Hill's Soul2Soul The World Tour 2017 announced additional shows today in all new cities including Edmonton, AB; Moline, IL; Las Vegas, NV; Ft. Wayne, IN; Greenville, SC and a second show in Denver, CO. Ticket pre-sales begin February 3rd and tickets for the general public go on sale starting February 10th at 10am local time.
Tim and Faith also announced that there will be different support acts for each week of the tour. The complete list of artists can be found at Soul2SoulTour.com. Support for the Nashville shows will be announced at a later date.
"We've had some great artists open up Soul2Soul in the past, so the bar was pretty high when we put this group together," said Hill. Added McGraw "These artists represent a combination of some of the most exciting new acts from all genres out there as well as some that we have been fans of for the past few years. We are honored to have them all with us and look forward to seeing them live."
McGraw and Hill continue to dominate the music charts with their albums and singles. Their new duet "Keep Your Eyes On Me" is featured in the major motion picture THE SHACK, in theatres March 3rd. McGraw also stars in the film and narrates it. The multi-Grammy winning couple began touring together in 1996 on McGraw's Spontaneous Combustion tour. In 2000, they created the Soul2Soul franchise with their record breaking Soul2Soul tour, becoming that year's top grossing and most successful U.S. tour. Their success continued in 2006-2007 when Soul2Soul II returned to the road and was the most attended tour of the year in any musical genre and remains the highest grossing multi-year North American tour in country music history. Pollstar magazine named it their "Major Tour of 2006," beating out Madonna, The Rolling Stones and the Red Hot Chili Peppers for the honor.
For more information on the tour, please visit www.Soul2SoulTour.com or visit www.TimMcGraw.com or www.FaithHill.com.