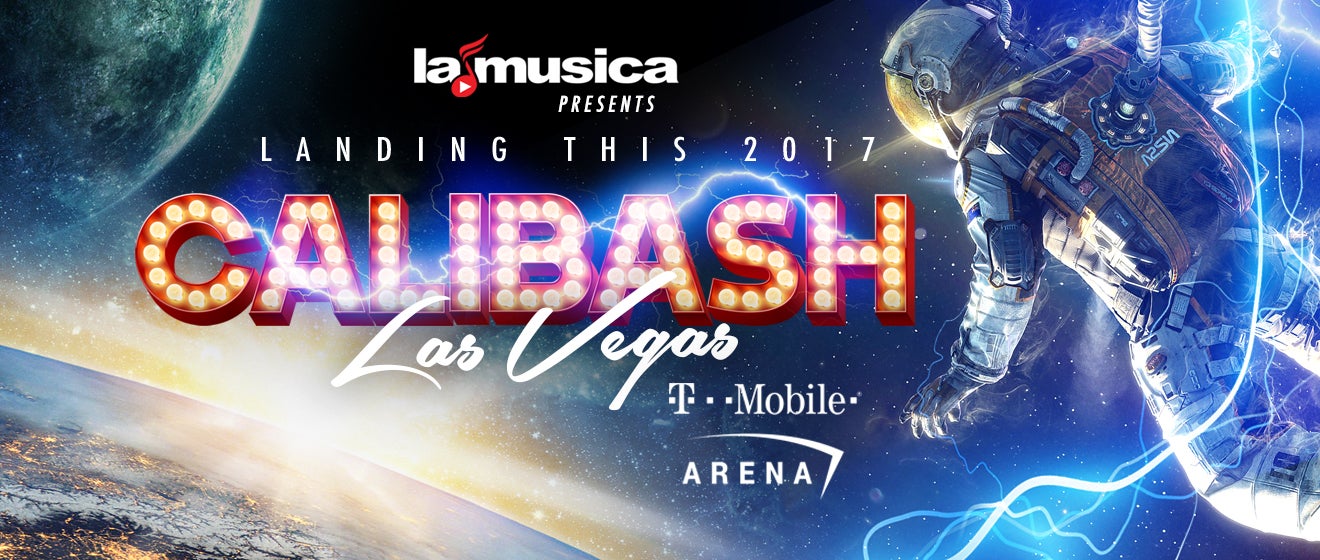 Nov 16, 2016
RICKY MARTIN, DON OMAR, NICKY JAM AND WISIN AMONG CONSTELLATION OF STARS TO PERFORM AT CALIBASH LAS VEGAS ON JANUARY 26 AT T-MOBILE ARENA
At the beginning it was just a dream of bringing together Reggaetón's leading players for a west coast concert called CALIBASH; a decade later the event is the world's largest and most popular urban Latin music concert in the world. Celebrating its 10th anniversary, the biggest Spanish music stars will gather Thursday, Jan. 26, 2017 at T-Mobile Arena in Las Vegas to celebrate together a special edition of the iconic concert: CALIBASH LAS VEGAS.
The star-studded lineup of CALIBASH LAS VEGAS features world renowned artists Ricky Martin, Don Omar, Nicky Jam and Wisin. Urban Latin music power players confirmed to perform include Zion & Lennox, Pipe Bueno, Farruko, J Alvarez and Plan B. Representing the "trap" movement, artists like Nely "El Arma Secreta", Osuna, De la Ghetto, Almighty and Arcangel will delight the audience with their tremendous sounds. For the first time on the West Coast the musical movement that is taking over the world: "Cubaton" will have their biggest appearance singing in CALIBASH LAS VEGAS including Gente de Zona, Chacal, Osmani Garcia and Divan. CNCO, one of the Latin world's hottest youth group will also perform. Tickets for CALIBASH LAS VEGAS go on sale Friday, Nov. 25, 2016 at www.axs.com.
"It is an honor to celebrate this iconic event with the Latino community in Las Vegas. CALIBASH LAS VEGAS will surpass earlier editions and will be the first Latino music concert at T-Mobile Arena in Las Vegas with multiple artists," said Lucas Pina, Senior Vice President - SBS Entertainment at Spanish Broadcasting System. He continued, "This is without doubt, a strong start to the future of Latin Entertainment in Las Vegas. It is a challenge, but we are confident with the quality performers that we will produce a successful January sold-out event, as we have done in New York, Miami, Chicago, Los Angeles and other cities where Latino audiences have enjoyed our productions and Las Vegas will not be an exception."
CALIBASH LAS VEGAS is presented by LaMusica and produced by SBS Entertainment (SBSE), the concerts and live events division of (SBS) Spanish Broadcasting System, Inc. (Nasdaq: SBSA). Entravision Communications has joined the venture as the official CALIBASH LAS VEGAS TV and radio sponsors.
SBS Entertainment constantly brings innovation and entertainment to the new generation of young bicultural Latinos. Follow CALIBASH LAS VEGAS on line and use #CalibashLasVegas in social media conversations. You can also find the latest information about the concert, performing artists and other news and exclusive opportunities for fans at the following:
Online: www.CaliBashLasVegas.com
Facebook: http://www.facebook.com/CALIBASHLasVegas
Twitter: http://www.twitter.com/CalibashVegas
YouTube: www.youtube.com/sbsevents
Instagram: www.Instagram.com/CalibashLasVegas