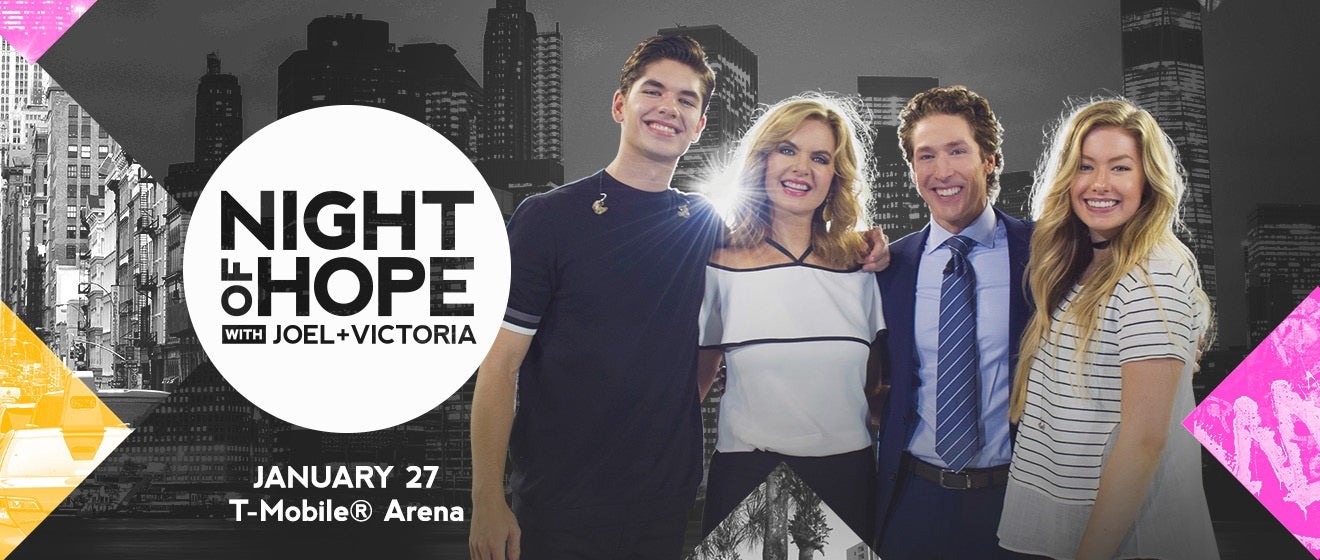 Nov 2, 2016
A MESSAGE OF HOPE THAT IMPACTS MILLIONS AROUND THE WORLD
Tens of thousands fill arenas and stadiums across America to hear a message of hope from Joel and Victoria Osteen. Now, the pastors of the largest church in America are coming to Las Vegas, NV to hold "A Night of Hope" at T-Mobile Arena Friday, January 27.
Joel Osteen reaches one of the largest audiences in the U.S. and across the globe. Millions of people worldwide are inspired through his weekly television broadcasts, New York Times bestselling books, worship events, popular weekly podcast and now Joel Osteen Radio on SiriusXM channel 128. Joel and Victoria are the pastors of America's largest church and one of the most diverse - the 52,000 strong Lakewood Church in Houston, Texas.
This Night of Hope will bring together people of all different backgrounds from across the region for an exciting time of praise and worship where lives are changed and hope is restored. Joel's appeal is universal, allowing him to crossover to audiences that are diverse racially, politically and socioeconomically. His ability to speak directly to individuals and to connect personally with them is virtually unmatched today. And, his simple message that God cares deeply for each of us and empowers us to overcome and succeed resonates with millions, bringing hope and encouragement to a world that desperately needs it.

Joel Osteen is available for interviews.
Contact: Andrea Davis andrea@joelosteen.com D: 713-491-1339

What: "A Night of Hope" with Joel and Victoria Osteen
Where: T-Mobile Arena – 3780 Las Vegas Blvd. South, Las Vegas, NV 89158
When: Friday, January 27 – 7:30 pm
Time: Doors open at 6:00 pm

Arena tickets are $15.00 (plus venue fees and taxes) and are available at the venue box office, AXS.com, (888) 929-7849.