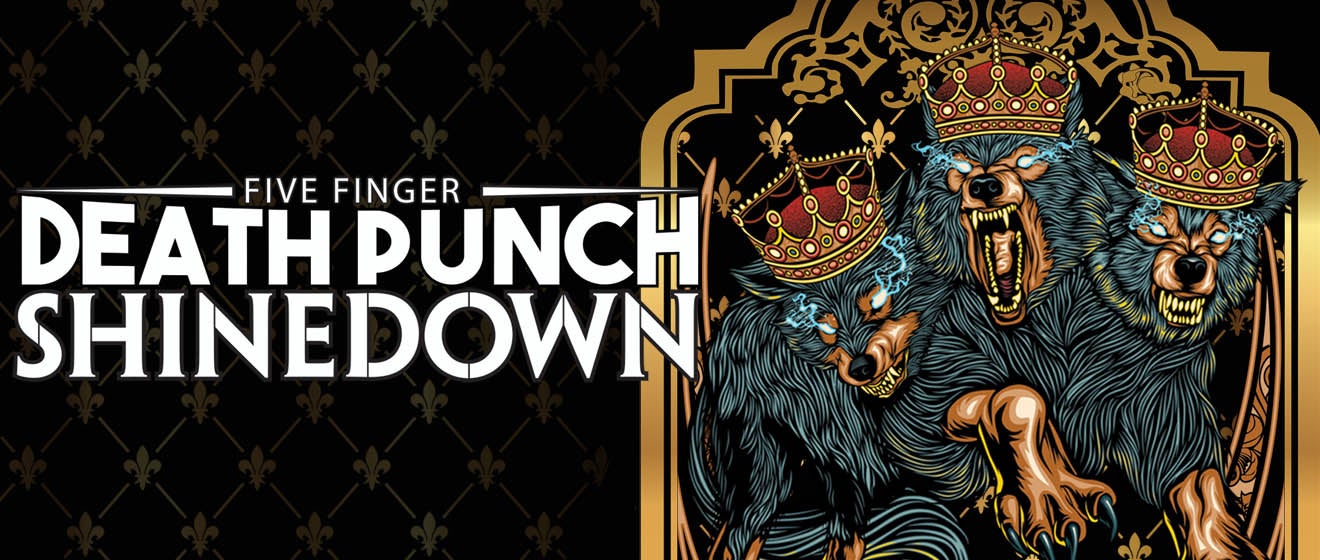 Apr 26, 2016
FIVE FINGER DEATH PUNCH AND SHINEDOWN
WITH SPECIAL GUESTS SIXX:A.M. AND SUPPORT FROM AS LIONS
LAS VEGAS, NV — (April 26th, 2016) — Five Finger Death Punch and Shinedown are partnering to co-headline the biggest Fall Arena Rock Tour 2016 produced by Frank Productions/NS2/ CMoore Live — an epic trek that will make a stop at T-Mobile Arena on Saturday, October 28.
The tour is also highlighted by special guest SIXX:A.M. featuring vocalist/producer James Michael, bassist Nikki Sixx and guitarist Dj Ashba. UK newcomers As Lions, featuring Austin Dickinson, will round out the supporting lineup, following the tour's previous openers-turned-success stories Nothing More and From Ashes To New.
Tickets are available for purchase via VIP and fan club pre-sales tomorrow at 7 am at AXS.com. Local and venue pre-sales begin Thursday, April 28th, at 10 am on AXS.com. The general public on-sale starts this Friday, April 29th at 10 am. For more information and exclusive VIP Packages, go HERE or HERE.
Says Five Finger Death Punch guitarist Zoltan Bathory about the tour: "I wanted to give you a brilliant quote about trying to keep rock music alive by assembling bills that can sell out arenas where everyone can have the production rock shows deserve, or bringing out new talented bands and expose them to huge crowds... or about rebuilding a community with the help of rock radio, and donating to good causes while we are at it… but we are so busy doing it that I ran out of quotes."
Shinedown has always been about sharing the undeniable power of rock music," says Shinedown frontman Brent Smith. "And performing live is where we make that connection most directly, where we can truly experience that power together with our fans in its purest form because we are literally sharing the same physical space, living in that moment as one. Five Finger Death Punch shares that passion and commitment, and, like us, leaves it all out on the stage every single night. Come experience the power of rock music with us."
"We are really excited and proud to be part of this tour with FFDP and Shinedown. Having spent many months in the studio recording Prayers for the Damned, it will give us the opportunity to play our new songs and hits in arenas", says bassist Nikki Sixx. "They have been such supporters of new music and we are grateful for the opportunity to be a part of this powerful night of music!" adds vocalist & producer James Michael. "I can't tell you how excited we are to be sharing the bill with FFDP and Shinedown, this tour is going to be off the f'n chain, can't wait to see you all out there!" states guitarist Dj Ashba.
"This will be the most explosive and dynamic rock tour these cities have ever experienced!" added Frank Productions president Charlie Goldstone.
The bands have partnered to donate $1 from each ticket sold on the tour to four hand-picked charitable organizations close to their hearts: Five Finger Death Punch chose the Badge of Honor Memorial Foundation, Shinedown selected MusiCares, SIXX:A.M. will support Jada Pinkett Smith's Anti-Human Trafficking organization Don't Sell Bodies, and As Lions will donate to Make A Wish America. In addition to the $1 donation per ticket, the bands have teamed up with Crowdrise to give fans the option to enter for the chance to win VIP tickets plus a Meet & Greet by choosing to donate an additional $5 at the time of purchase. Fans who don't live in one of the cities on the tour, but would still like to support the efforts, can visit Crowdrise to donate $5 and be entered for a chance to win a flyaway to the show of their choice plus a Meet & Greet with all four bands.
Coinciding with the announcement of the Fall tour, Five Finger Death Punch are also celebrating the platinum certification of their 2009 album War Is The Answer, as well as the gold certification of their 2013 album The Wrong Side Of Heaven And The Righteous Side Of Hell, Vol. 1.
Shinedown recently launched "Asking For It" – the third single off of the multiplatinum rock band's current album "THREAT TO SURVIVAL" - with an electrifying performance on ABC's "Jimmy Kimmel Live!." "Asking For It" follows the album's back-to-back #1 singles "Cut The Cord" and "State Of My Head," and looks to build upon the band's already record-setting tally of 20 chart-topping singles.
SIXX: A.M. will release their highly anticipated fourth album, Prayers for the Damned this Friday, April 29th. Pre-order the album http://smarturl.it/SixxAMPFTD.
Five Finger Death Punch's highly acclaimed sixth album, Got Your Six, hit new sales heights for the band around the world with its September 2015 debut. In the U.S., it debuted at #1 on Top Album chart, #1 on the Overall Digital Album chart, and #1 on the Hard Music Album chart, as well as at #2 on the Billboard Top 200, and sold 115K in the first week of release. This was the first #1 Album for the Las Vegas hard-rockers. Impressive international chart numbers rolled in from Australia and Canada (#3), Germany and Sweden (#5), and the UK (#6), to name a few. Five Finger Death Punch have grown exponentially in just a few years, racking up 16 consecutive top 10 hits, five #1 hits, four gold and a platinum album. With the release of 2013's The Wrong Side of Heaven and the Righteous Side of Hell Volume 1 (recently certified gold) and Volume 2, the band created continuous new content with which they outsold the majority of bands in their genre, selling 2 million albums over the past three years in North America alone. The band is currently taking Got Your Six around the world touring throughout 2017. Don't miss the brand new lyric video for "Boots and Blood," from Got Your Six, premiering tomorrow, April 27th. For more info on the band, visit:www.fivefingerdeathpunch.com
Known worldwide for their unparalleled streak of hits, Shinedown is without question one of the most successful rock bands of the 21st century. The band's unmatched ascendancy over multi-format rock radio has seen the band achieve a record setting 20 #1 singles, including back-to-back chart-toppers "Cut The Cord" and "State Of My Head" off of their latest album, "THREAT TO SURVIVAL." Released last fall, "THREAT TO SURVIVAL" debuted at #1 on both Billboard's Rock Albums and Hard Rock Albums chart, and #5 overall on the Billboard 200. The band just launched the album's 3rdsingle "Asking For It." Shinedown exploded onto the rock scene with 2003's RIAA-certified Platinum debut album "LEAVE A WHISPER," has had every album since - "US AND THEM" (2005), "THE SOUND OF MADNESS" (2008), "AMARYLLIS" (2012) – score either Gold or Platinum success. Hailed by fans as a fiery and always exciting live act, Shinedown have toured hard throughout their career, including countless headline treks and festival appearances. The band has shared their explosive performances with a national audience through high profile television appearances on ABC's Jimmy Kimmel Live!, NBC's The Tonight Show with Jay Leno, and TODAY, CBS' The Early Show, and TBS' Conan, among others. In 2009, Shinedown received an American Music Award nomination for "Best Alternative Rock Band." Shinedown is: Brent Smith (vocals), Barry Kerch (drums), Zach Myers (guitars), and Eric Bass (bass). For more information, please visit www.shinedown.com.
Formed in Los Angeles in 2007, SIXX:A.M.'s mission has remained steadfast: to provide the masses with iconic, hard rock that boasts unrivaled musicianship. Comprised of vocalist and producer James Michael, guitarist Dj Ashba, and bassist Nikki Sixx, the band has released three studio albums; The Heroin Diaries Soundtrack (2007), This Is Gonna Hurt (2011), and Modern Vintage (2014), and has sold over 1 million albums globally. On April 29th, SIXX:A.M. will release Volume 1 of their new double album Prayers for the Damned via Eleven Seven Music. The album's first single "Rise" is currently #7 on the Rock charts and climbing. The band recently announced their #ReasonToRise campaign, in which they urge people to look at their surroundings and take a stand for issues they believe in. Fans can share on social media what makes them raise their fists and act using the hashtag #ReasonToRise. Watch the video for "Rise" here. The band will kick off their global 2016 Prayers for the Damned Tour at Welcome to Rockville on April 30th followed by performances at all other major US and European festivals this spring and summer with a string of US headline shows in May and many more dates soon to be announced. For more information on tour dates and the band, please visit www.sixxammusic.com
As Lions, comprised of vocalist Austin Dickinson, guitarists Conor O'Keefe and Will Homer, bassist Stefan Whiting, and drummer Dave Fee formed in late 2014 and have been on the road ever since. Called the "Hot New Band of 2015" by Metal Hammer, the band has been keeping busy by touring building a national following through the United Kingdom. This year, As Lions will release their debut album, produced by multi-platinum award-winning producer David Bendeth, (Paramore, Papa Roach), on Better Noise Records.www.aslionsband.com
---
Related Event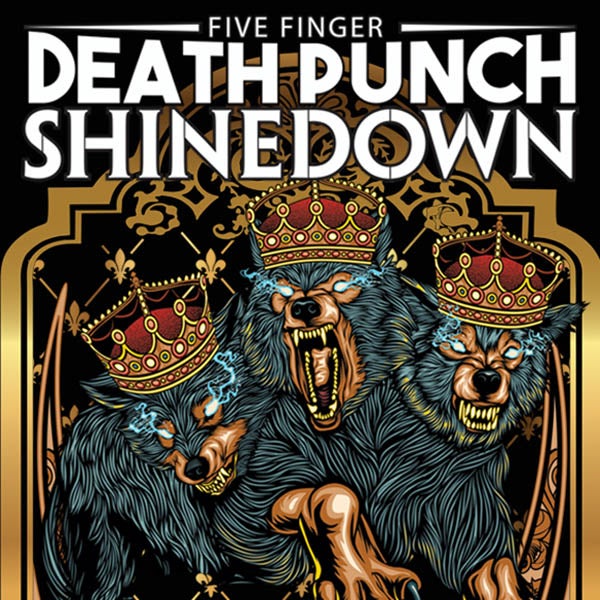 with special guest Sixx:A.M. and As Lions