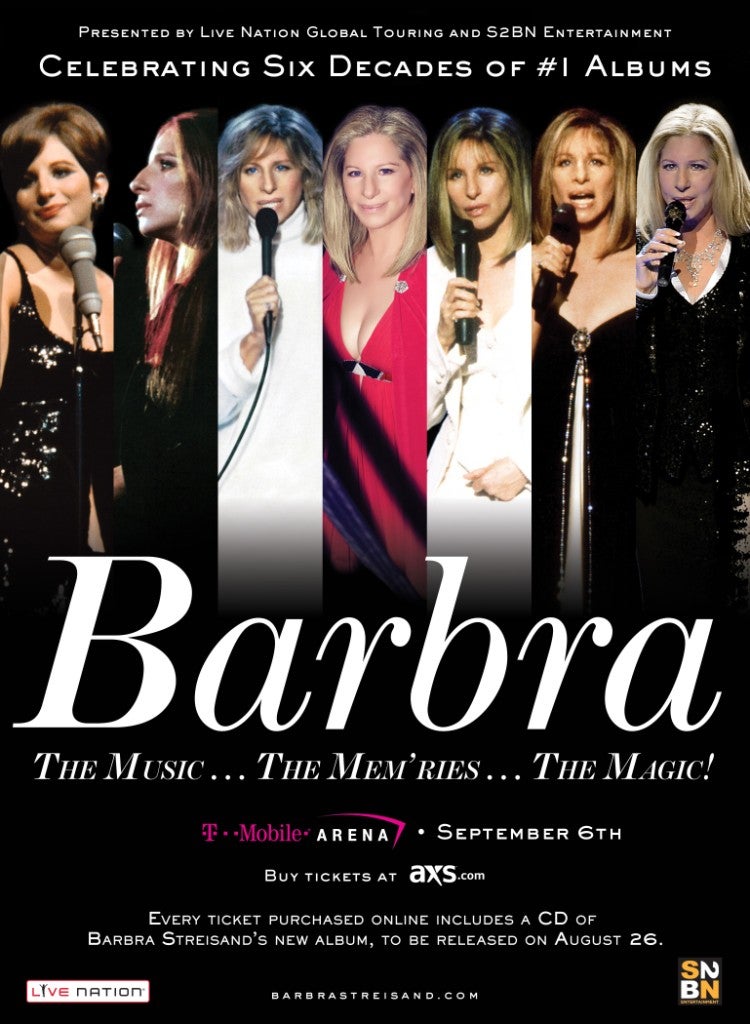 May 16, 2016
BARBRA STREISAND COMING TO T-MOBILE ARENA SATURDAY, AUGUST 6
Tickets on sale to the public Wednesday, May 25 at 10 a.m. PDT
LAS VEGAS – Legendary singer, actress and filmmaker Barbra Streisand will make her way to T-Mobile Arena for a show-stopping performance Saturday, Aug. 6. Tickets, starting at $99 (not including applicable service charges), go on sale Wednesday, May 25 at 10 a.m. PDT and will be available online at t-mobilearena.com or by calling the AXS Call Center at 888.929.7849.
An exclusive presale for AMEX cardholders begins Wednesday, May 18 at 10 a.m. PDT. Additional local presales begin Monday, May 23 at 10 a.m. PDT. All presale tickets can be purchased online only at t-mobilearena.com.
M life loyalty members will receive access to a presale running Monday, May 23 from 10 a.m. to 10 p.m. PDT. To join the program or for more information, visit mlife.com.
The best-selling female recording artist in history, Streisand partners with some of Hollywood's biggest stars to sing Broadway classics on her upcoming album. Following the release of her 2014 record-breaking "Partners," "ENCORE: Movie Partners Sing Broadway" is Streisand's third and long-awaited Broadway album. Streisand released "The Broadway Album" and "Back to Broadway" in 1985 and 1993, respectfully, both of which went multi-platinum.
With the longest span of number one albums in history, Streisand has recorded 52 gold, 31 platinum and 13 multi-platinum albums in her career. She is the only woman to make the All-Time Top 10 Best Selling Artists list, an honor which includes fellow duet partners Elvis Presley and Billy Joel. Streisand also has the longest span of number one albums in history, just under 50 years.
With her live performances being so rare and special, the excitement surrounding a Streisand tour is unequaled. Following a 27-year hiatus from live concerts, Streisand's 1994 world tour garnered a record-setting 5 million phone requests to Ticketmaster and sold out within the first hour. Her shows in fall 2006 broke house records in 14 of the 16 venues in which she played (in the other two arenas, Streisand already held the buildings' records).
Streisand's last tour in 2012, BACK TO BROOKLYN, highlighted an emotional return to performing in concert in her home borough for the first time since she was in grade school. Of the first of her Brooklyn shows, which helped inaugurate the brand new Barclays Center, The New York Times praised Streisand's "spellbinding voice" and noted, "Like few singers of any age, she has the gift of conveying a primal human longing in a beautiful sound." The Los Angeles Times said she "put the audience immediately under the spell of her folksy grandiosity. Streisand ... isn't just a star — she's a world view, a style of being, an entire cosmology, with the highest possible thread-count sheets. You don't just come for the music; you come for the whole church service. The sermon, broken up into bits, is inseparable from the songs."
Following a North American run, the tour broke records throughout Europe, and culminated in two spine-tingling performances in Israel, thrilling crowds who "loved her even before a perfectly-pitched note came out of her mouth," as described by Haaretz, "and every note was, indeed perfect."
Widely recognized as an icon in multiple entertainment fields, Streisand has attained unprecedented achievements as a recording artist, actor, concert performer, producer, director, author and songwriter. Streisand has been awarded two Oscars, five Emmys, ten Golden Globes, eight Grammys plus two special Grammys, a special Tony award in 1970 and two CableACE Awards – the only artist to receive honors in all of those fields of endeavor. Streisand received the Presidential Medal of Freedom from President Barack Obama this past November. Her many other honors include the American Film Institute's Lifetime Achievement Award, the National Endowment for the Arts Medal, two Peabody Awards and the French Légion d'Honneur. She is also the first female film director to receive the Kennedy Center Honors.
Streisand is a devoted philanthropist who works tirelessly to fight for what she believes in. A woman of action, Streisand founded The Barbra Streisand Women's Heart Center at Cedars-Sinai, helping to raise awareness and push research into women's heart disease, the leading cause of death among women.
About Live Nation Las Vegas:
Live Nation Entertainment (NYSE: LYV) is the world's leading live entertainment company comprised of global market leaders: Ticketmaster, Live Nation & House of Blues Concerts, LN Media and Artist Nation Management. Live Nation Las Vegas brings world-famous artists to many of the city's premiere concert venues including The AXIS at Planet Hollywood Resort & Casino, Mandalay Bay Events Center, MGM Grand Garden Arena, Las Vegas Village, Pearl Concert Theater at the Palms, House of Blues and more. For additional information, visit www.livenation.com. Find Live Nation Las Vegas on Facebook, Instagram and follow us on Twitter.
About T-Mobile Arena:

T-Mobile Arena is a privately funded indoor arena that opened April 6, 2016. The 20,000-seat venue, located on the Las Vegas Strip between New York-New York and Monte Carlo, will host more than 100 events annually, including UFC, boxing, hockey, basketball and other sporting events, major headline entertainment, awards shows, family shows and special events. Las Vegas' newest landmark features 50 luxury suites, more than two dozen private loge boxes, complete broadcast facilities, and other specially designed exclusive hospitality offerings and fan amenities destined to create a guest experience second to none. Toshiba Plaza, an adjacent two-acre outdoor entertainment space, features performance stages, a variety of video screens and other interactive content and display areas. Industry-leading architect Populous designed T-Mobile Arena to meet the U.S. Green Building Council's standards for LEED® Gold Certification. For more information visit the T-Mobile Arena website at t-mobilearena.com.
FOR MORE INFORMATION:
Live Nation:
Brad Seidel
Kirvin Doak Communications
(702) 737-3100
bseidel@kirvindoak.com
MGM Resorts International:
Scott Ghertner / Katharine Sherrer
MGM Resorts International
(702) 692-6700
---
Related Event