The BIG3 Championship Finals
Time
1:30PM / Doors 12:30 PM
On Sale
Ticket Prices
$41.95 - $1,069.95+
Purchase Parking
The BIG3, the highly-anticipated 3-on-3 professional basketball league, has unveiled its full 10-week schedule. The season will tip off June 25 at Barclays Center in Brooklyn, NY, followed by regular season stops in basketball hotbeds Charlotte, Philadelphia, Tulsa, Nashville, Dallas, Lexington (Ky.) and Los Angeles. The BIG3 Playoffs will bring professional basketball back to Seattle on Aug. 20. The inaugural season Champions will be crowned in Las Vegas on Aug. 26.
Fans across the country finally can see some of their favorite players up close and in person again. Whether with family or friends, this electrifying new league will take centerstage all season long and create a one-of-a-kind live experience and appointment television every week.
The BIG3 games in Philadelphia will mark the return to the city of NBA Hall of Famers and Philadelphia 76ers icons Allen Iverson and Julius 'Dr. J' Erving. In addition to bringing basketball back to Seattle, the league playoffs will provide Seattle fans the chance to see SuperSonics legends Gary Payton and Rashard Lewis. Other stops will include Rupp Arena, the most famous college basketball venue in the country, and Los Angeles' Staples Center, home to the Los Angeles Lakers and Clippers.
"When we created the BIG3, we set out to bring elite basketball talent and highly competitive 3-on-3 action to fans across the country," said BIG3 President and Commissioner, Roger Mason Jr. "We couldn't be more excited to deliver on that promise, and unveil our 2017 season schedule including cities that are home to some of the sport's most diehard fans."
BIG3 games will be played every Sunday in a different city, in a quadruple header at the same venue. Games will be presented the following night in primetime at 8 p.m. ET on Fox Sports 1 in a thrilling "Monday Night Basketball" experience. The league championship will be played on Saturday, Aug. 26 and broadcast live on the FOX broadcast network at 4:30 p.m. ET. Tickets for most dates will go on sale May 6 at Ticketmaster.com.
The Player Captains and Coaches of each team have been announced:
* 3's Company: Captains Player/Coach Allen Iverson and DerMarr Johnson
* Three-Headed Monsters: Captains Rashard Lewis and Jason Williams, Coach Gary Payton
* Killer 3s: Captains Chauncey Billups and Stephen Jackson, Player/Coach Charles Oakley
* Ghost Ballers: Captains Mike Bibby and Ricky Davis, Coach George Gervin
* Trilogy: Captains Kenyon Martin and Al Harrington, Coach Rick Mahorn
* Tri-State: Captains Jermaine O'Neal and Bonzi Wells, Coach Julius 'Dr. J' Erving
* Power: Corey Maggette and Cuttino Mobley, Coach Clyde Drexler
* Ball Hogs: Brian Scalabrine, PLAYER X, Coach Rick Barry
More than 70 former NBA stars have signed on to compete for the remaining 24 spots on the BIG3's 8 teams. Play-ers currently eligible for the 2017 BIG3 draft and vying for the remaining roster spots include: Latrell Sprewell, Steve Francis, Kendall Gill, Keith Bogans, Isaiah 'J.R.' Rider, Mahmoud Abdul-Rauf, Marcus Banks, Earl Boykins, Derrick Byars, Josh Childress, Brian Cook, Ndudi Ebi, Reggie Evans, Donte Greene, Shane Heal, Larry Hughes, Mike James, Ivan Johnson, Jumaine Jones, Voshon Lenard, Rashad McCants, Pops Mensah-Bonsu, Lawrence Moten, Ronald Murray, Lee Nailon, Andre Owens, Smush Parker, Jamario Moon, Ruben Patterson, Eddie Robinson, Xavier Silas, Joe Smith, DeShawn Stevenson, Mike Sweetney, Etan Thomas, Hakim Warrick, and James White.
Featuring professional basketball's first four-point shot, BIG3 games will be packed with highly skilled, intensely competitive matchups in the world's most popular form of basketball – 3-on-3. The winning team will be the first to score 60 points. BIG3 games highlight the biggest basketball superstars competing at the highest competitive level. The league structure encourages this incredibly, competitive group of players to vie for a revenue share based on final league standings.
RESERVED EVENT PARKING AVAILABLE
Reserved event parking is available at New York-New York, Monte Carlo and the Aria Event Parking Garage for this event starting at $10. Additional service fees apply. The price increases the day of the event. For more information, including maps, directions and to purchase passes, please click here.
UBER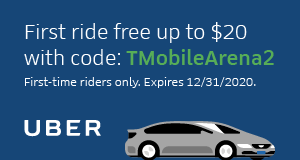 EVENT DAY RENTALS
The Best Access. Entertainment. Sporting Events. Everything.
Designed to offer the very best first-class amenities, personal service and an exclusive environment for essentially every event at T-Mobile Arena.
The Event Suites are the perfect setting to entertain a client, potential investor, or enjoy an evening out with friends and family. Your suite will either be located on the Event Level or on the Premium Suite Level that accommodates up to 16 to 40 guests.
Includes 16-40 tickets
4-10 VIP parking passes
Prices vary for each event
Please contact us at [email protected].